Pilgrims
By
James Carmichael

. Directed by

Geordie Broadwater

.


Babel Theatre Project

.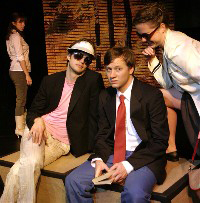 Emily Young, Eric Murdoch, Rufus Tureen, Catherine Gowl
📷: Ben Strothmann
For this prep-school mystery, I trained actors to produce a wide range of sound effects, using their bodies and tools to set scenes, including a train through the New England countryside, or the patter of rain on a lake.